John and I decided to let everyone know what baby #2 is going to be and it's official, we have a GIRL!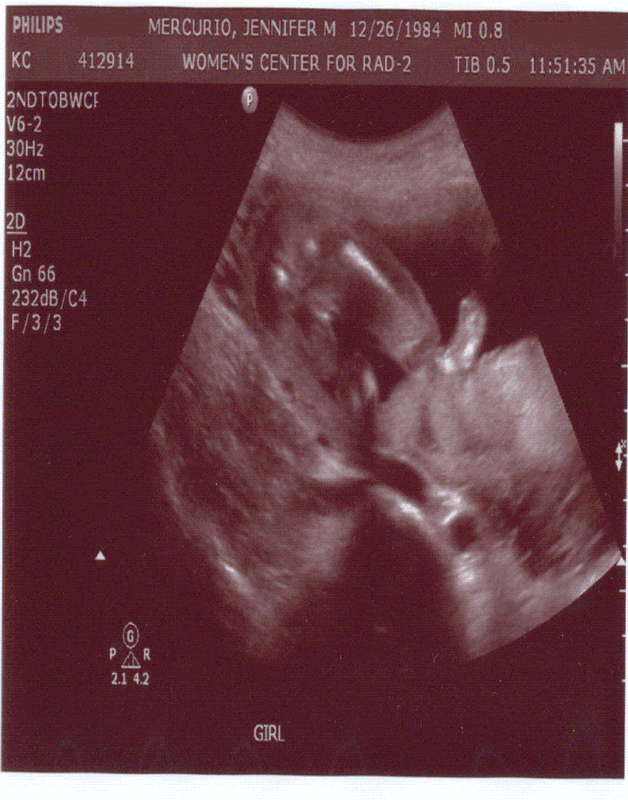 (if you can't tell: her butt is in the top left corner and then you can see what sorta looks like an L. that's her leg and foot. So then look under the L and you can see that she's a girl)
I've been SOOO excited and happy I got my way… I mean my 2nd girl!! Lol. Grandparents would have been thrilled either way but John's mom is especially happy because she has mostly boys in the family. This little girl is going to be spoiled beyond words, we already know it! About the name, well Kendall we just both fell in love with so it stuck in our top 5 names for a while but now it's finalized as her first name. Her middle name is going to be Rose and that came from John's *late* grandmother's first name. She was a huge part of John's life and I'm all for honoring family members who made an impact on your life!
More about her measurements, she is 100% perfect and on schedule. Only her legs are off and they are measuring 5 days MORE then how far I am along. It doesn't surprise us since John is so tall (6'3″).
((P.S. PLEASE BE SURE YOU ARE ON: http://www.doubledutymommy.com NOT If you haven't read, I bought my own domain so the GFC followers link will not work if your address bar says the "blogspot.com" address!))