**CLOSED**
Winner: Random.org #40 – Jennifer
-Winner has been emailed & will have 48 hours to respond-
Huge Thank You to The Braelyn Bounty Bug & to all of you who entered this wonderful giveaway! 🙂
When I found out I was pregnant I never really think of all the little things that come along with it, sure you know there will be Doctor/Midwife appointments and things of that nature but you don't really think twice about it since that's normal stuff, right?. Well after a while I started to notice that keeping track of all these dates and times are pretty hard to remember, especially once the preggo memory (or lack there of!) sets in!
I tried looking around in stores for a regular planner but really nothing fit my needs, the needs of my pregnancy. Then I found The Braelyn Bounty Bug and wondered, "could this really be?!"
The Braelyn Bounty Bug Prego Planner will help you keep your pregnancy organized and allow you to remember what happened during those 9 months. Let's face it, there is more then just the once a month Doctor/Midwife appointment you need to remember. What about the Ultrasound date, Gestational Diabetes test, the baby shower date, Prenatal massage appointment (hehe)! Plus, if you just want to jot down the first time you felt the baby kick, the last day of your normal clothes, or even how long morning sickness lasted.
What I like about this planner is that it is 3-ring binder so no more blank pages because something doesn't apply to you, just simple take the pages out if you don't want them. (Such as a baby shower section will probably not apply to your third pregnancy since some of us aren't THAT lucky.)
The planner comes in 3 stylish covers "Dressy", Zebra, and Chocolate Brown. I love how appealing the covers are and not some regular planner that is covered in some cheesy cartoon character or even babies. Don't get me wrong, I love baby stuff but I would like MY planner to fit MY style.
I chose "Dressy" because well, it's pink and like I said, it fits my style. Once I opened this gorgeous glossy covered planner I found the colorful pages were separated into sections with colored tabs on the outside for quick access to any section you need to jump to in a pinch.
I'm going to break this down into sections to make it a little easier to explain 🙂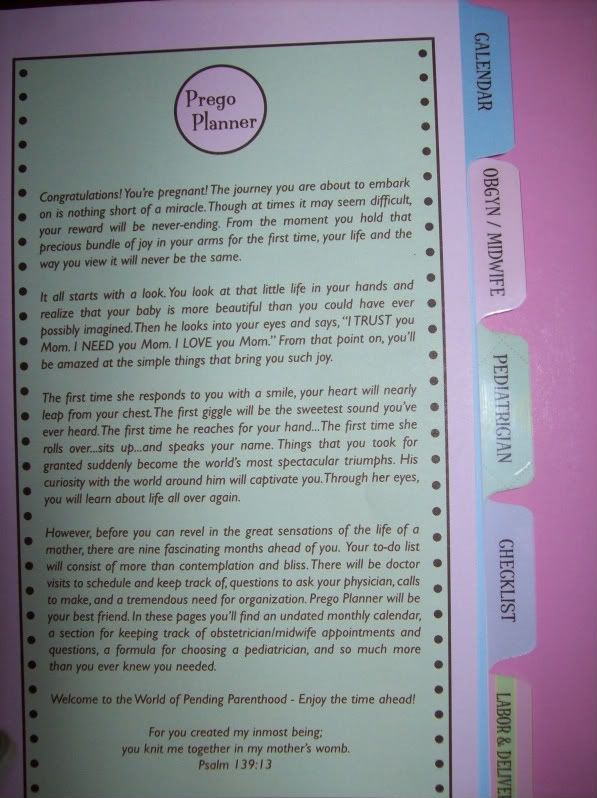 The first section is a blank 12 month calendar to keep track of previous mentioned happenings along the way of your glorious pregnancy. I love blank calendars because of course it makes your planner just that much more personal. No more having to worry about having empty pages for pre-printed pages that say Jan, Feb, March & April if your pregnancy started in May!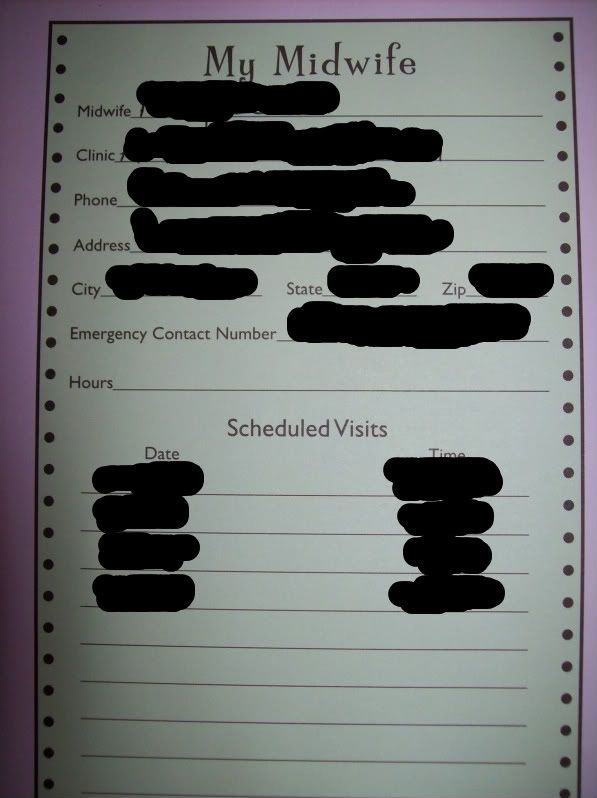 The second section is a place to keep all the important information on your obgyn/midwife, hospital, pharmacy, and insurance company. It also includes a page for your Prenatal Visits and what tests were done, followed by 5 blank pages for "Questions & Concerns" so if you ever think of something to ask your caregiver then you can't forget at the time of visit.


Third section is great to help you pick a pediatrician (complete with some pre-written questions to ask and space for their answers). Even though I've had to choose a Pediatrician before I have still found these questions very helpful and I am definitely going to be looking to my planner when I go to find a Pediatrician for Kendall soon. If you're a seasoned pro at finding a Pediatrician then of course you could just remove the 'Choosing a Pediatrician' pages. Once you have picked a doctor for your little one, there is a page for all the information on their office and any upcoming scheduled visits. Again, this section also has a "questions & concerns" section for you to ask the Predication anything that came to mind about your newborn is in between her/his visits.
The next section is chalk full of checklists: a newborn checklist, gift list, and a 'before baby arrives' checklist.
The fifth and final section is the labor and delivery area. Complete with pages for birthing class notes, a birth plan, hospital bag checklist, call list, and a post delivery checklist (like a reminder to order those adorable Hospital pictures and scheduling your postpartum visit).
Buy the "Dressy" Prego Planner for only $24.00!
Win it:
One lucky mama-to-be can win the Prego Planner in the style of her choice right now!
Here's how you can win it:
(PS:: PLEASE be sure to include your email in EVERY entry!! I need to contact you if you win!)
Mandatory first entry: Follow me on Google Friend Connect AND Go to the Braelyn Bounty Bug website and tell me style you'd choose if you won!

(Mandatory entry MUST be completed FIRST for any other entry to count!!!)
Extra Entries: Please leave a separate comment for each additional entry.
1 entry – "Like" Braelyn Bounty Bug on Facebook. (Leave a post on their wall and tell them you're from doubledutymommy.com)
1 entry – Follow Braelyn Bounty Bug on Twitter.
2 entries – Become a Double Duty Mommy fan on Facebook.
1 entry – Follow me on Twitter
1 entry – Tweet about this giveaway:
#Win a Prego Planner & stay organized during ur pregnancy from @jmercurio19 & @BountyBug (5/24) #giveaway #preggo
(can RT tweet
3 times
a day w/ at least a hour in between then comment again!)
1 entry – Subscribe to this blog by RSS and/or email.
2 entries – Vote for me on Top Baby Blogs and Top Mommy Blogs. Enter one separate comment for each site you vote on.
(You may click the link THREE TIMES a day. AFTER a hour wait each time.
Then leave a separate comment each time.)
2 entries – Put my *NEW* blog button on your site (right sidebar). Leave me a link so I can find it. (Right side of blog. Leave 2 separate comments)
2 entries – Put my *NEW* "Showering…" event button on your site (site sidebar). Leave me a link so I can find it. (Right side of blog. Leave 2 separate comments)
5 entries – Blog about this giveaway. Blog post MUST include links back to Double Duty Mommy AND Braelyn Bounty Bug to count. Leave me the link in your comment.
NO BLOG?? 5 entries – Post a FACEBOOK status update about this giveaway. Status MUST include links back to Double Duty Mommy AND Braelyn Bounty Bug to count. Leave me the link in your comment (ur page cant be private though :/ To get the link: Click on the time of your post and then copy the address bar link provided. CAN ONLY DO ONE: Blog post OR Facebook post!!!!)
Are you eligible for extra entries? You know who you are. Write "Extra entry 1", "Extra entry 2", etc.
**No other monetary compensation was received for this review – Braelyn Bounty Bug sent me the Prego Planner to review at no cost. The views and opinions are strictly my own. Your results and views may differ.
Giveaway will close on May 24th, 2010 at 11:59 pm EST! Random.org will be used to choose the winner who will then have 48 hours to respond to my email before a new winner is chosen. Good luck!**