**CLOSED**
———————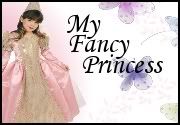 My Fancy Princess
has extensive selection of both affordable princess dresses and high-end fancy ballgown dresses. Find a wide array of Disney inspired princess dresses and various fairytale princess costumes. They are perfect for every day dress up play, princess parties, or even a fancy party!
We Makenna was sent two dresses to review & she was sooo excited to do so, lemma tell you!!
She picked out the Snow White Princess Dress Up Costume. I loved her choice because it didn't really look like the normal Snow White dress that anyone can pick up at the Disney Store.
The top is stretch velvet with gold trim and a pretty little flower in the center of the neck line. The skirt feels like silk even though it's made of a polyester fabric. Because of the quality fabric that was chosen when making this dress it's completely 100% machine washable (a HUGE plus for me!!!).
Makenna wasn't wearing it in the picture below but she loves wearing the slip (sold separately) since it creates a "real princess" look. The seams and stitching are some of the nicest I've seen and are not scratchy or itchy so Makenna goes around wearing this (& the other dress I will talk about in a minute) for hours! Even if it's time for me to run errands she still wants to keep the dress on.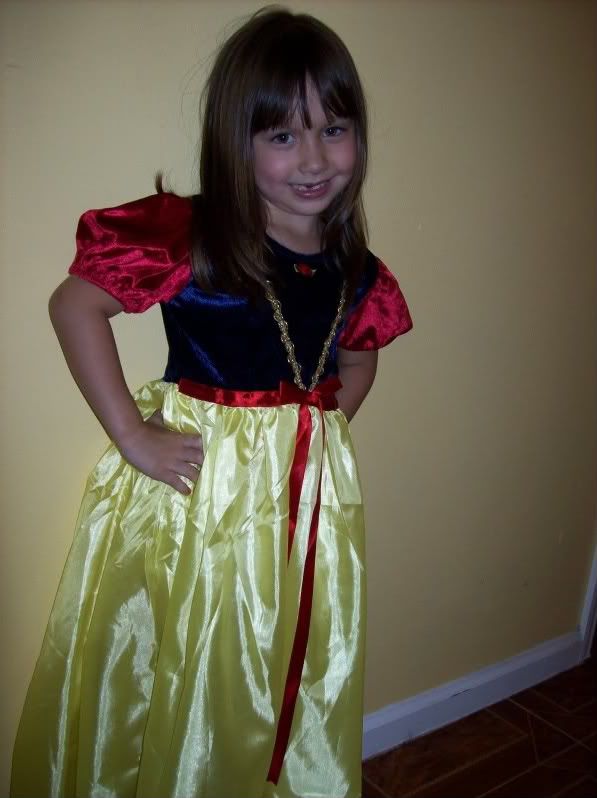 Makenna's 2nd choice was the Sleeping Beauty Princess Costume. Again not your "normal" Sleeping Beauty dress adorned with a little picture of Aurora or anything like that. It's different but gorgeous and you can still tell which Princess you are dressed up as.
The collar and puff details are so pretty, especially in the light when they shine and become "glittery" (as my daughter says) because of their iridescent quality.
Again, this dress is fully machine washable and has the same great stitching quality as the Snow White dress.
Your little Princess can even dress herself because this just easily slips on with no buttons or velcro to fasten. Makenna takes full advantage of that by just randomly coming out of her room all dress up to my shock sometimes, lol.
My only complaint we found was that the wrist area of this dress became very tight and Makenna could barely squeeze her fingers/hand through the opening. Upon mentioning this to the owner she quickly checked into it and found that a few of the dresses were made smaller on accident and we just so happened to be shipping 1 🙁 She promptly sent us another dress and it fit perfectly so now there is absolutely no problems with the dress.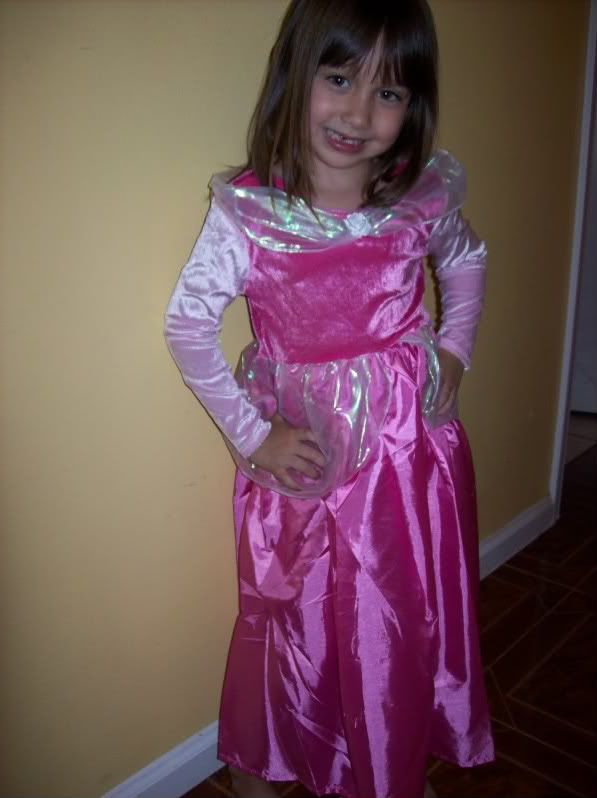 Like I mentioned before
My Fancy Princess
also sells a Fullness Slip that creates the full & fluffy look that all dresses just have to have. This slip is a multi-layered ruffle skirt with a soft underskirt for comfort. This skirt is what makes the princess dress look full and fluffy. Skirt has an elastic waistband for easy on and off.
Here's what the one we have looks like:
It's a bit big on Makenna so we have to roll it up and if she's jumping around a lot it still falls down but it;s something she still loves to wear and of course she can grow into it.
But that's not all, My Fancy Princess doesn't just sell Disney inspired dresses, they have shoes and accessories, room decor, tutus, pettiskirts, personalized gifts and much much more!! So you have to check out their fantastic site and I'm sure your little girl will be sure to find more then one things she adores and just has to own.
You can purchase these affordable dresses at just $28 each!
One reader has the chance to win a Princess Dress for your little Princess!!
(Please read my tutorial on "How To Enter My Giveaways" if you are unsure about anything)
(PS:: PLEASE be sure to include your email in EVERY entry!! I need to contact you if you win!)
(Mandatory entry MUST be completed FIRST for any other entry to count!!!)
1 entry –Follow me on Google Friend Connect AND Tell me which Princess Dress your little girl would love to have!
[[EXTRA ENTRIES:]]
(Please leave a separate comment for each additional entry.)
1 entry –

"Like"
My Fancy Princess
on Facebook. (Leave a post on their wall and tell them you're from doubledutymommy.com)
1 entry –

Follow
My Fancy Princess on Twitter.
2 entries
–
"Like"
Double Duty Mommy on Facebook
.
(Leave 2
separate
comments)
1 entry
– Follow me (jmercurio19) on Twitter
1 entry – Tweet about this giveaway (Leave ur tweet hyperlink, please!!!):
#Win a fun & fancy Princess Dress from @jmercurio19 & @myfancyprincess (6/30) #giveaway #princess #fun #dressup
(can RT tweet
3 times
a day w/ at least a hour in between then comment again!)
2 entries – Subscribe to this blog by RSS and/or email. (You must verify your subscription for these entry to count. I do check and I will delete your comment if my feed says "unverified")
2 entries – Vote for me on Top Baby Blogs and Top Mommy Blogs. Enter one separate comment for each site you vote on.
(You may click each link THREE TIMES a day. AFTER a hour wait each time.
Then leave a separate comment each time.)
3 entries – Put my *NEW* blog button on your site. Leave me a link so I can find it. (Leave 3 separate comments)
3 entries – Put my *NEW* "Showering…" event button on your site. Leave me a link so I can find it. (Leave 3 separate comments)
5 entries – Blog about this giveaway. Blog post MUST include links back to Double Duty Mommy AND My Fancy Princess to count. Leave me the link to ur post in your comment.
NO BLOG?? 5 entries – Post a FACEBOOK status update about this giveaway. Status MUST include links back to Double Duty Mommy AND My Fancy Princess to count. Leave me the link in your comment (ur page cant be private though :/ To get the link: Click on the time of your post and then copy the address bar link provided. CAN ONLY DO ONE: Blog post OR Facebook post!!!!)
Are you eligible for extra entries?
You know who you are. Write "Extra entry 1", "Extra entry 2", etc.
**No other monetary compensation was received for this review – I was sent the product(s) to review at no cost to me. The views and opinions are strictly my own. Your results and views may be different.
Giveaway is open to USA ONLY & will close on June 30th, 2010 at 9 pm EST! Random.org will be used to choose the winner who will then have 48 hours to respond to my email before a new winner is chosen.**