**CLOSED**
Winner: Random.org #301 – Gustosa
-Winner has been emailed & will have 48 hours to respond-
A wonderfully huge Thank you to
Uncommonly Cute
& to all of you wonderful readers who entered! 🙂
———————
So we all want our kids to look cute when we go out, right? And don't you hate it when you're walking through the mall and you see see 3 other kids wearing the same shirt as your son or daughter? I sincerely hate it!! When I came across Uncommonly Cute a couple months ago I instantly fell in love because I knew Makenna would look great in the clothes and wearing such a unique and cute tshirt she would definitely stand out of the crowd. Let me tell you a little more about this great site I found!!
It's called Uncommonly Cute! Founded in 2004 Uncommonly Cute specializes in making sure our individual little people have little individual clothes that match their personality.
All of their pieces are made of 100% combed cotton and is super, super soft. They're all machine washable, safe, durable and made in sweatshop-free studios. So that makes this mommy very happy 🙂
I was sent a T-Shirt for Makenna and a onesie for Kendall (but I'll touch on that in August for another review, hehe!). Makenna was sent the "I Love You-ABC" T-Shirt. When we received our package in the mail we discovered there was a 4T and a size 6. Makenna usually wears a 5 and because Uncommonly Cute does not carry size 5, Eric thought it best to send both sizes.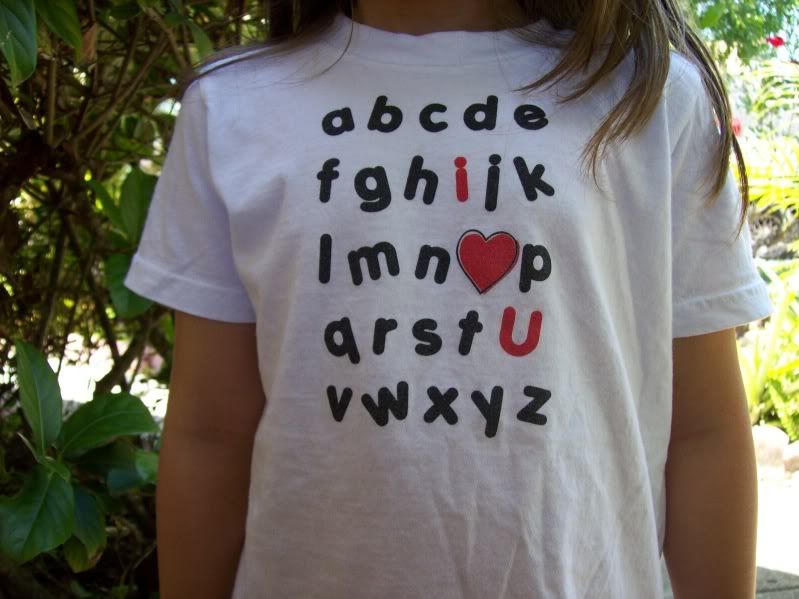 Isn't it the cutest thing ever??!
Makenna has practically lived in the tees. The size 6 is a little long but of course it'll fit her in no time. In the pictures she's wearing the size 4. With all the washes I've put them through there has not been any shrinking or fading of the Red lettering one bit, so the site definitely lives up to what it says about it's clothing.
Uncommonly Cute is inspired by trendy (but speechless) babies everywhere and if you want to walk around getting (more) stares then normal then I definitely suggest you put your baby / toddler in these hip and Cool Toddler and baby clothes! Uncommonly Cute even carries cute little baby shoes
where you can use their "Build a Bootie" to (again) make sure your baby is wearing the most unique shoe that no other baby on the block will be sporting!
Another great thing about Uncommonly Cute is that they are involved in two great organization charities that help babies everywhere. I definitely think you should check out the sites and get more great information! Room to Grow and R Baby Foundation are just a couple!
Buy this extremely CUTE "I Love You-ABC" T-Shirt for only $22.
Right now you can shop using the code: doubleduty
to receive a special 10% off your entire order (good until May 31st)!!
Win it:
One reader has the chance to win a Onesie or T-Shirt of your choice!!
Here's how you can win it:
(PS:: PLEASE be sure to include your email in EVERY entry!! I need to contact you if you win!)
Mandatory first entry: Follow me on Google Friend Connect AND Go to the Uncommonly Cute website and tell me something else you love besides the "I love you-ABC" T-shirt!

(Mandatory entry MUST be completed FIRST for any other entry to count!!!)
Extra Entries: Please leave a separate comment for each additional entry.
1 entry – "Like" Uncommonly Cute on Facebook. (Leave a post on their wall and tell them you're from doubledutymommy.com)
1 entry – Follow Uncommonly Cute on Twitter.
2 entries – Become a Double Duty Mommy fan on Facebook.
1 entry – Follow me on Twitter
1 entry – Tweet about this giveaway:
My baby will look CUTE when I #win an @UncommonlyCute shirt from @jmercurio19 GO ENTER 2 win also! (5/20) #giveaway
(can RT tweet
3 times
a day w/ at least a hour in between then comment again!)
1 entry – Subscribe to this blog by RSS and/or email.
2 entries – Vote for me on Top Baby Blogs and Top Mommy Blogs. Enter one separate comment for each site you vote on.
(You may click the link THREE TIMES a day. AFTER a hour wait each time.
Then leave a separate comment each time.)
2 entries – Put my *NEW* blog button on your site (right sidebar). Leave me a link so I can find it. (Right side of blog. Leave 2 separate comments)
2 entries – Put my *NEW* "Showering…" event button on your site (site sidebar). Leave me a link so I can find it. (Right side of blog. Leave 2 separate comments)
5 entries – Blog about this giveaway. Blog post MUST include links back to Double Duty Mommy AND Uncommonly Cute to count. Leave me the link in your comment.
NO BLOG?? 5 entries – Post a FACEBOOK status update about this giveaway. Status MUST include links back to Double Duty Mommy AND Uncommonly Cute to count. Leave me the link in your comment (ur page cant be private though :/ To get the link: Click on the time of your post and then copy the address bar link provided. CAN ONLY DO ONE: Blog post OR Facebook post!!!!)
Are you eligible for extra entries? You know who you are. Write "Extra entry 1", "Extra entry 2", etc.
**No other monetary compensation was received for this review – Uncommonly Cute sent us the "I love You-ABC" T-Shirt to review at no cost. The views and opinions are strictly my own. Your results and views may differ.
Giveaway will close on May 20th, 2010 at 11:59 pm EST! Random.org will be used to choose the winner who will then have 48 hours to respond to my email before a new winner is chosen. Good luck!**